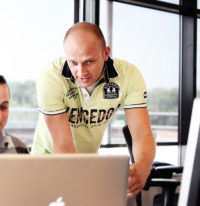 BI specialist met C#/.NET kennis en SSRS kennis
We zijn op zoek naar: een BI specialist met C#/.NET kennis en SSRS kennis voor 36-40 uur per week.
Werklocatie: Amsterdam
Inzet: 3 maanden
Achtergrond
For a client of VX Company we are looking for a BI specialist/.NET developer. This is an international holding company and family office. The company provides high-quality services to its clientele worldwide such as tax and legal advice, estate and inheritance planning and asset management.
The IT Department is part of the holding company and provides all central IT services/offices worldwide. Examples of central IT services include the Corporate Network, e-mail, Skype for Business and key business applications including Dynamics CRM, Dynamics AX, Cognos, Fusion Invest and Business Intelligence solutions.
The IT Enterprise Solutions department is part of the IT Department and is primarily responsible for managing and supporting the Enterprise IT solutions portfolio using industry standard (cloud based) software as well as managing the Information Management Risk portfolio and provide business process support.
Taken
DWH / BI (cross-national)

Conception and design of the data warehouse architecture and the corresponding data models.
Development and technical implementation of the DWH / BI solution (SQL based)

Technical connection and integration of source systems.

Design and programming of the Bl-applications and reports.
Creation of documentation.
Care, maintenance and continuous development of DWH / BI applications.

Development of custom build applications for BI environment

Design and develop native windows applications
Creation of Documentation

Data Quality

Master Data Management
Data Classification

Relationship internal / external

Assistance and support of "key users".
Build up good and long-term customer relationships with national and international business units.

Processes

Information needs recording and analysis of existing business processes and new requirements of the customers or users from the various financial and business departments.
Analysis, conception and design of ETL processes in order to merge the heterogeneous data of the relevant source systems on a high quality level.

Software applications (cross-national)

Advice and support of management in the acquirement of new software according business needs.
Provision of advice and guidance on the configuration of applications where needed.
Development, configuration, testing and implementation of software including but not limited to package systems and reports taking into account target environment, performance requirements and existing systems.
Resultaatgebieden
higher education in IT / commercial information technology (university degree) or several years of work experience with according further education
experience with DWH (data warehouse) and BI (architecture, design and implementation)
experience with relational database management systems, preferably SQL
experience with the development of reports (ideally with SQL Reporting Services or Crystal Reports)
experience with development of applications in C#, DotNet.
good understanding of processes in the financial service (Asset Management is a pre, Controlling, Treasury management)
Functie eisen
In the role of Enterprise Solution specialist with focus on Business Intelligence you are responsible for supporting and developing the Data Warehouse applications (on premise) and related (scrum) projects including configuration, development, testing, implementation and upgrade in accordance with key stakeholders and standards. Additionally, you will work closely with stakeholders to develop business, reporting and technical requirements, and deliver solutions based on those requirements. Multiple years of hands-on experience with BI is required, preferably based on Microsoft technology and knowledge of Asset Management processes. Academic degree or similar in Computer Science, Software Engineering, MIS or related field.
Overige competenties
strong analytical and communicational skills
independent worker who also enjoys working as part of a team
international mind-set, at ease in international environment
service-oriented, initiative, trustworthy and customer oriented personality with a high sense of quality
fluent in English, both verbal and written, Dutch an asset
customer Orientation
problem Analysis
quality orientation
teamwork
initiative
planning and organizing
behavioural flexibility
discipline
Overige eisen
PES en VOG verklaring zijn voor rekening van de professional. Tarief ligt rond de 80 euro all-in, excl. btw.
Condities
Graag vermelden of kandidaten in vaste dienst zijn, op freelance basis werken of van derden afkomstig zijn.
Het (onder)tarief vermelden.
Ben jij degene die VX Company zoekt dan komen we graag met jou in contact! Stuur een mail naar: external@vxcompany.com.