The 4th day of the EuroSTAR 2019 Software Testing Conference
Today is the 4th day of the EuroSTAR 2019 Software Testing Conference. A day were lots of participants start to feel overloaded in their brains.
The day kicked off at the main stage with the topic 'Diversity Strikes'. The first time for the EuroSTAR conference. In the days before, delegates were asked to come forward with a topic they wish to share for the change of a few minutes on the main stage. Five people were chosen and they did very well! They presented themselves well, their stories were interesting and inspiring, and I recommend them for daring and opening up to us. Unfortunately, I didn't get their names, so I cannot mention them in this blog.
The first speaker talked about his sleeping disorder and how BDD suited him when he got one of his episodes. The second speaker described how alone she was in her role as a tester in her working environment but that being alone doesn't necessarily mean being lonely. The third speaker pleaded for 2nd changes, how important these can be, and how surprisingly fruitful second changes can be. The fourth person elaborated on diversity, that we should think about diversity together, not be afraid of diversity, and that in diversity you should always be yourself. The fifth person described a situation at an event where the testing community came forward and collectively corrected the situation: the community shared her values!
Still buzzing after this main stage event I went to a talk by Laurent Bouhier titled 'My AI Was Wrong!'. He briefly explained the historical development up to today. He illustrated a few ways of how an AI can learn (supervised, unsupervised, reinforced). He showed a few cases were AI-assessments were (plainly) wrong. He pinpointed a few difficulties testers have to overcome testing AI solutions. He then introduced the metamorphic testing method. He then recommended some points for the AI testing strategy. These mainly concerned the data used for learning and testing and expected results, but also mentioned legal frameworks, your ethical standards and creating awareness that data may be biased. Oh, last but not least, it appears that we currently have a 0.6% chance of being automated, so we're quite safe for the moment.
On the next talk about AI: 'When SciFi Becomes Reality: Deep Learning & IoT Testing' by Jarosław Hryszko. He explains what IoT is, an interconnected set of objects. With respect to testing, it is illogical to only test each component separately. You also need to test them interconnected. He explained the risk of 'cascading failure'; a situation wherein one failing component can bring other interconnected components down which then cascades on. Further in the talk, he explains that it is possible to test an IoT. He would apply deep learning! And that for this purpose deep learning open source tools and libraries of data are available and useful.
The last keynote is given by Dona Sarkar wherein she explains the changes within Microsoft from sales-centric (90's) to Usage-centric (00's) to Community-centric (10's). The changes they needed to make release cycles faster (from once every few years to every few months) and 'safer'. How they started a community of WindowsInsiders. And their internal release strategy before deployment to this community.
She commenced the rest of the talk about the community of WindowInsiders and how they imbedded this community into the values of Microsoft. A quick summary. Improving the processing of feedback from this community, the culture of experiment and learn, custom driven planning, sharing your stage with people from the community whenever you can, have inside jokes and symbols, meet regularly, be vulnerable and make it safe to be vulnerable, keep learning together, build for teamwork, and unlock creativity and embrace shenanigans.
The conference at that point was at an end. The chair for EuroSTAR 2020 was then announced and will be Rik Marselis! The theme is Testing in the Wild! and the conference will take place in Antwerp Zoo. I am already looking forward to it!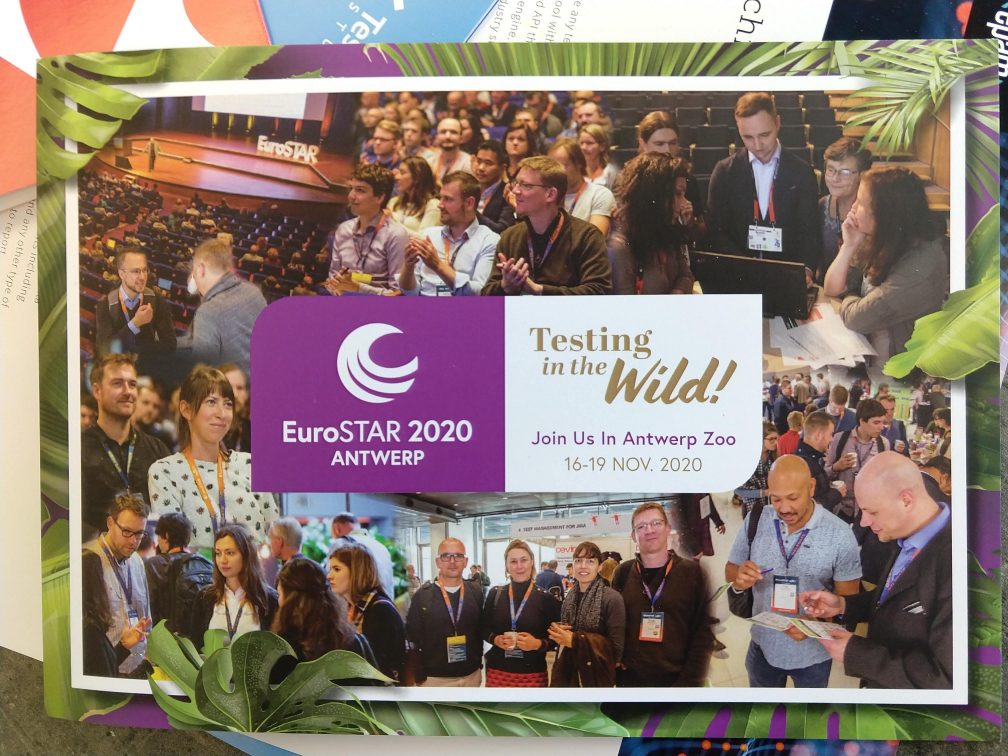 Meer informatie